Cheap Blinds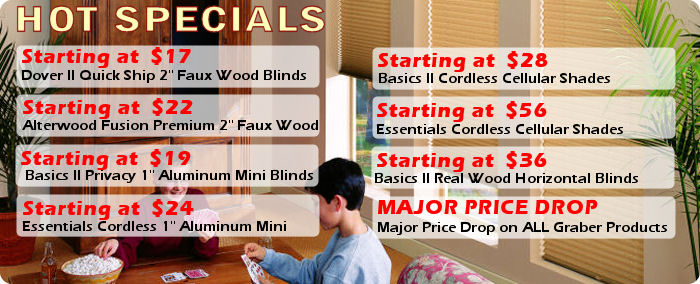 High Quality Blinds, Cheap Window Blinds, Low Cost Blinds
When it comes to buying blinds for your home, you don't have to break the bank to get the blinds you want. High demand and improved manufacturing processes have led to cheap blinds being available in all different styles and colors. Whether you want cheap mini-blinds, cheap plantation blinds, or cheap vertical blinds, you can find the perfect blinds to fit your budget.
Cheap Mini-blinds
Mini-blinds are the standard cheap blinds that are available. You can find an assortment of slat sizes but they are typically ½ inch to 1 inch in width and the length can be shortened to fit most window sizes. The cords are available with child-safe tassels and cord stops. You can also find cordless cheap mini blinds for added safety and convenience.
Cheap Mini Blinds review:
Mini blinds have ½ inch to 1 inch-wide slats of very thin material like plastic or aluminum
Mini-blinds are best suited for utility rooms, workspaces, kitchens, garages, and narrow bedroom windows.
Typically available in vinyl and aluminum
Choice of light-filtering or room-darkening options
Many options for indoor and outdoor applications
Easy to clean, very minimal care needed
Cheap Plantation Blinds (Venetian Blinds)
Plantation blinds (also known as venetian blinds) look great with nearly any style of home decor. Though these blinds are usually considered to be the "premium" choice, there are plenty of manufacturers who make cheap plantation blinds. Choose from 1 inch to 2 inch width slats to get the look you want. The cords are also available with child-safe tassels and cord stops. Cordless options are usually available for added safety and convenience.
Cheap Plantation Blinds review:
Plantation (venetian) blinds are typically 1 to 2 inches wide
Usually made of real wood or plastic molded to look like wood
Cheap plantation blinds typically look best living rooms, dining rooms, entry ways, bedrooms, and kitchen windows
Many different stains and color options are available depending on the material you choose
Usually only offered in room darkening options
Require very little care and the large slats make them easy to clean
More durable than mini-blinds as they are made of much thicker materials.
Cheap Vertical Blinds
Vertical blinds are usually found covering large vertical windows like those found on sliding doors. Because they easily cover large window surfaces, vertical blinds are an excellent choice for saving money on blinds. They have extra wide slats that are usually 3.5-inches wide and rotate for complete light and privacy control. When the blinds aren't needed they easily slide out of the way to expose the entire window. Typically a child-safe wand controls the rotation of the blinds.
Cheap Vertical Blinds review:
Vertical blinds are mounted on an overhead track with strips of material hanging vertically, making them an the most efficient choice for covering large windows.
Great for sliding-glass doors and large windows
Offer a great combination of fashion and function.
Blind material choices include faux wood, aluminum, vinyl, and fabric.
Available in room-darkening styles.
Draw options include one-way draw (slides to the side of the window) and split draw (slides to the center of the window).
A Few More Tips For Buying Cheap Blinds
Finding Pre-cut blinds for your windows will usually cost much less than custom-sized blinds.
Shop for Cheap Blinds that are 1 to 2 inches smaller than the width of the window opening. This will allow you to mount the blinds inside the window casing.
When covering large windows, use multiple blinds instead of one large blind. Large blinds are often expensive so if you can get multiple blinds that are pre-cut you can save money and the blinds will last much longer.
---
On a tight budget? Check out these Cheap Blinds at hotBlinds.com:
Be sure to check out all of our affordable window blinds. Jump to the product page to get a quote: