Buy Shutters & Blinds Locally
---
Put Control in Your Hands with Beautiful, Versatile Shutters
Curtains aren't the only option when it comes to decorative window treatments. Have you thought about incorporating something unique, stylish yet traditional into your home? hotBlinds has the solution: shutters. We have all the latest styles, colors, materials and top-name brands that ensure your shutters will not only boost the value of your home but give you a long lifespan of service. You already know us for our high-quality cellular shades and blinds...now try us for shutters too!
Why Shutters?
There are several advantages to installing shutters in your Texas home:
Your property value will go up, as shutters (considered permanent fixtures that come with the home) are attractive to many buyers. In fact, this capital improvement can even be financed with a home purchase.
Shutters are versatile. Open them up wide for the most sunlight and warmth, close them completely at night or when you're looking to lock in heat, or open them partially for sunlight and breeze. Adjustable louvers mean you control how much light you want at any given part of the day. Position the slats so that the harmful UV rays of the sun don't fade your furniture and carpeting.
You'll pay less in many cases than you would with fancy customized drapes.
You won't spend a lot of time on cleaning and maintenance. If you see dust accumulating, just wipe them down with a damp wash cloth. No curtains to take down, launder and put back up!
You'll

save money on your energy bills

because you can close the louvers and use your shutters as an extra insulating barrier to trap unwanted temperatures and save cash on your energy bill.
The allergy and asthma sufferers in your life will be happy: because shutters don't harbor allergens like fabrics do, you're creating a healthier air quality for occupants of the home.
Available in a variety of materials, colors, and styles, we can customize your shutters no matter where you live so that they match your window dimensions perfectly. Our techs can visit your home to take the measurements, or hit up our helpful page on how to measure for shutters.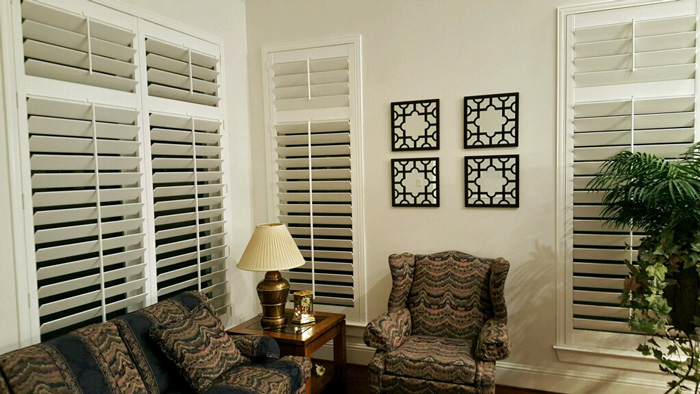 Our Service Area for Custom Shutters and Custom Blinds
Here at hotBlinds, one of the major advantages of our online presence is that we can service anyone, anywhere. However, we specialize in local installations. If you live or work in our service area, our trained technicians can visit you to take detailed measurements and install the shutters as well for a seamless experience. Our locations include:
Anna
Frisco
Little Elm
McKinney
Prosper
We also specialize in local installation of blinds, available in a variety of materials. From real wood horizontal blinds to vertical vinyl blinds, we have what you need to provide the perfect window covering for your home. Here at hotBlinds, we are proud to offer the very best brands by proven manufacturers such as Comfortex, Graber and Levolor. If you live or work in our service area, our trained technicians can visit you to take detailed measurements and install blinds for a seamless experience.
From deep discounts and attentive customer service to secure, risk-free shopping and limited lifetime warranties, hotBlinds is your first choice for shutters in Texas and beyond. We even have an Oops Policy to protect you if you make a measurement mistake. Come to us for the largest variety of styles, colors, sizes and textures with FREE shipping. We'll even send you free samples if you want.
Call hotBlinds for a FREE Consultation on Shutters!
It's as easy as 1, 2, 3 to schedule your free consultation with hotBlinds for shutters online or in your local area. Just contact us toll free at 888-650-6873 Monday through Friday 8 a.m. to 8 p.m. Central time and Saturday 8 a.m. to 5 p.m. Central time. We give you a FREE in home consultation and FREE custom measuring as part of professional installation. From local to national service, we've got you covered!
Contact hotBlinds for Shutters or Blind Installation
Home office:
hotBlinds.com
3135 Crossing Dr
Anna, TX 75409
Monday - Friday 8:00am - 8:00pm Central time
Saturday 8:00am - 5:00pm Central time
Toll Free: 1-888-650-6873
Phone: (903) 482-5888
Fax: (903) 482-5883

Buy On Line Or Call Us Toll Free @ 888-650-6873

Email: complete the form below.
Buying on our website is easy as 1, 2, 3. Just click on the category of window covering that you're interested in. Then click on the actual product. A complete description with photographs will appear. Select your color along with any options you may want then enter your measurements and a price will instantly appear. Follow the prompts to make your purchase.