Free Samples

To assist in your purchasing decision, hotBlinds.com will provide you with color/product/fabric samples. The samples can be ordered on line and will be sent to your home via regular mail at absolutely "no cost" to you.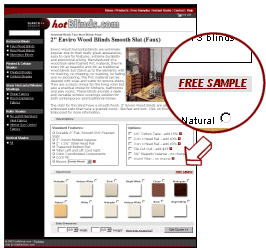 Obviously, we can't provide you with samples of each and every product we sell because that would involve literally hundreds of samples and color swatches. So, we respectfully ask that you order samples only for the products, colors and fabrics that you are interested in. As always, should you have questions please call us toll free at 888-650-6873.
COLOR DISCLAIMER: The colors we display on our website should be considered close renditions to the actual colors available and cannot be 100% accurate. As these colors are downloaded they will vary depending on each computer's monitor settings. We can guarantee the color only if you order samples prior to placing your order. Samples are provided on a no charge basis.
Real Wood Colors will vary somewhat due to inherent variances in wood. The stained colors can vary due to the way the wood grain accepts the color. This is noticeable in the best wood furniture, cabinetry, etc. Dye lots vary as well and for this reason it is always recommended that if you want real wood blinds in natural wood finishes that all blinds be ordered at the same time.