Satisfied Customer Testimonials
Read what satisfied customers have said about hotBlinds.com. Would you like to share your experience with us? Click here to send us a message. Or let others know about us at Epinions.com.
I received my blind today it is beautiful I will be ordering some more. price is great and received in a timely manner. Thank you so much.
Ann H. - Yuma, AZ
Great products at very reasonable prices. The clutch assembly broke on my 4 year old solar blinds and they replaced it without any questions. Never had this kind of service from other major brand blind companies.
Barry U. - Camano Island, WA
All I can say is WOW! You guys are unbelievable. I have recommended your company to everyone I know that are looking for blinds.
Allen O. - Cottage Grove, MN
Thank you for the Class A service. Looking forward to completing our motorhome. This aluminum/silver color looks good! The sample colors you sent made our choice easier.
Leslie C. - Ione, WA
The blinds were perfect. Great color and the size is dead on. During the day they completely black out the room... perfect for our nursery! I've given my 400 unit condo complex your website. Expect some business!
Dan F. - Boynton Beach, FL
Got the new blinds. They are installed and look great! Thanks for the great customer service.
Lois L. - Santa Monica, CA
Thanks so much for all your help. You are an awesome company who always gets back to your clients. I have been recommending you to my friends.
Connie B. - Coronado, CA
Received my gold vertical blinds and am so very very pleased. I have been waiting 40 years to get these particular blinds. They were exactly as ordered, no flaws and would recommend your company to my best friend. I will be getting more blinds from you soon.
Dolores B. - Summerville, SC
We got the blinds and my husband installed all of them and they look great!
Rhonda G. - Humble, TX
We just finished installing the single blind that I ordered from your company and it looks wonderful. I was concerned about the color matching an existing blind but there is no color difference. The original blinds were installed approximately 4 years ago. My thanks to your company for the excellent quality with your products.
Sandra C. - Oklahoma City, OK
Wow - you guys are great. I knew I purchased from the right company. Thanks so much.
Allen O. - Cottage Grove, MN
I received the blinds and we are very pleased with the product. Thanks again for all your help. I will certainly recommend you to my friends.
Betty D. - Duncan, OK
I am so impressed. I received the blinds yesterday and they were perfect! The tile cut out was exactly how it should be and I was able to install both blinds in less then 30 minutes after I got home from work! By myself! I will be bookmarking your website because I will slowly be replacing the non-functioning blinds throughout my house with ones from your company! Thank you so much for your assistance.
Jennifer W. - Davis, CA
We received the new blind a few days ago and it is perfect. Thank you again for all your help. We get a lot of compliments on the new blinds. Thank you again.
Loretta O. - Johnstown, PA
Thank you so much for staying on top of this and keeping me informed. People like you, that follow up, are hard to come by and I truly appreciate all you have done to make sure I got what I needed! Please make sure this is passed on to your manager so they know what a great job you do!
Donna I. - Prairie Village, KS
Thanks for such amazing response. I have to say I have always been extremely impressed with this company.

This is some of the best customer service I've ever seen... and I have a software business with 150 employees.

BTW, who is your manager/owner? I want to make contact to commend him/her.
John - Craryville, NY
Wow! Thank you so much. I wasn't expecting such prompt service.
Michael - Dunellen, NJ
Thank you very much for your assistance during this time, you have been very helpful and responsive. We are very pleased with our new blinds, and would not hesitate to order from your company again.
Kari K. - Austin, TX
As always, thank you guys for your great customer service. I am a Realtor and often have clients who ask me where to get blinds. I always send them to you.
Todd Y. - Oak Park, IL
You are one-of-a kind. No one else would have gone to the trouble to have this done, especially at no charge - and I do appreciate it. I have already bookmarked your business, and should I need products or services that you provide, I'll be sure to come to you. I may need a couple soon - my dog likes to jump on some on french doors to patio when she sees postman coming. You'll also get a recommendation to any friends who may use you. Thanks again.
Ken F.
Thanks so much for your quick reply. Your company has been a pleasure to deal with and have recommended you to many others. Our blinds look and feel like real wood for a fraction of the cost.
Dominic L. - Asbury Park, NJ
I appreciate all your time and effort you have put into this. You truly have given us the best customer service we have ever had dealing with any company.
Tim H. - Woodbury, MN
That is great - thanks so much. I have to say I tell everyone about your website, how easy it is to order what you want, and how great you guys are with customer service. You have earned a loyal customer.
Mary R. - Olmsted Falls, OH
Thanks for a superb customer service and prompt response, I will definitely be a repeat customer.
Bashir K. - Pagosa Springs, CO
I just to say this years age I order 9 blinds and just ordered a replacement this week, it already arrived and again your service is outstanding I love doing business with Hot Blinds and I'll be back. Thank you again fr the great service.
Regina M. - Del Haven, NJ
I am really impressed by HotBlinds.com. You're the best and I recommend your company to friends.
Otis D. - San Francisco, CA
We have received our shades and I have finally installed them. They look as good as the last order. We are very satisfied with hotblinds.com and the customer service. As always, my experience with hotblinds.com was very pleasant and you personally have reminded me that Customer Service still does exist in some companies. I will return to hotblinds.com in the future for my window covering needs and I will enthusiastically recommend hotblinds.com to anyone I know that is shopping for window coverings.
Greg B. - San Clemente, CA
I just wanted to let you know that we received our blinds and finally got around to installing them last weekend. They were easy to install and look great. Thanks for all of your help!
Diane L. - McKinney, TX
Just received my blind for my bedroom, installed it and love it! Thank you for making a quality product for a great price! I am going to order your blinds for all my windows!
Joanne B. - Eagle Mountain, UT
Hello. Just a quick note to let you know that the two replacement blinds arrive this week. All is well! They went right in and took care of the issues. I wanted to thank you again for the follow through and excellent customer service. I will definitely look to you again for future needs and let others know of your exemplary service.
James M. - Wilton, CA
I just wanted to say thank you for the perfectly cut blinds, they all fit perfectly and really made our house look awesome! They were very easy to install,(so easy a caveman could do it!) The faux wood blinds look great, keep up the good work!
Josh H. - King City, CA
I would like to thank you for taking the time to call me on the phone regarding my order inquiry. There are very few companies remaining in this world that still recognize the power and value of customer service. I truly appreciate your openness to communication and care for customer satisfaction.
James M. - Wilton, CA
I accidentally deleted your e-mail but actually the same day that you responded to my e-mail, I received my missing vane and the replacement valance. Everything looks great! Thanks for the prompt service and the excellent follow up.
Lisa D. - Justice, IL
The custom cut Faux Wood Blinds I received Are Absolutely Beautiful! Far Beyond my expectations for the price I paid, and of nice and sturdy quality! I also must be a good measurer, because they fit Perfectly! :D Thanks You so much! I'm so glad I found this company. Definitely will order again, and definitely worth waiting a short time to have them made.
Heidi W. - Ashtabula, OH
The blinds are beautiful! Thanks for your help. I definitely will be ordering more blinds in the near future. It is great to know that this company has such a great customer service department.
Mary Ellen M. - Globe, AZ
I cannot tell you what a pleasure it has been to do business with you, your courtesy and professionalism has gone above and beyond. I've passed your web site on to at least a dozen people I know. Thanks again for your help.
Judy D. - Ararat, NC
I have never been treated with this high level of customer service in any of my internet business. Your firm will continue to get business from me and others within my business network. Great job.
Antonio A. - Dallas, TX
I just wanted to tell you I received the blinds and installed them today. They are all you said and the fit is ideal, they look great. Thanks.
Louis D. - Brooksville, FL
Hotblinds is certainly a company I would highly recommend to anyone needing blinds. The blinds are all very beautiful and the service is superb. I will be ordering more blinds in the near future and I certainly will put a good word in for your company to anyone needing any type of window treatments. Thank you again.
Loretta O. - Johnstown, PA
I received my blinds yesterday and my wife and I installed them last night. Easy to install, and they look fantastic. thank you for working with me on everything. I really, really appreciate it.
Nathan C. - Fayetteville, AR
Thank you so much for the beautiful blinds! My patio blind and roman shade in the den fit beautifully and add so much warmth to the rooms. Also, I appreciate the fact that you were there on a Saturday to answer my panicked call about how to lower the blind... patience and wonderful products are a great combination!
Susie C. - Mukilteo, WA
Thanks for the prompt attention. I really appreciate the high level of customer service your business offers. I plan on passing this info on to anyone I know that is shopping for blinds.
Cheryl
I just wanted to let you know how pleased my husband & I are with our roller shades! We just couldn't find what we wanted in any stores and when I found your site, I was a little worried about ordering without seeing the product in person. Well, not only was ordering a breeze, our shades are fantastic! You provide great service and wonderful, high quality products! Thanks so much!
Kim N. - East Norriton, PA
Your service has been wonderful!
Catherine E. - Ft. Myers, FL
It's nice to do business with hotblinds. We will order again soon.
Ahmed S. - Pearland, TX
Just wanted you to know that we received the new blind to replace the damaged one. Installed it and it looks great. We just wanted to thank you again for all the attention you gave to our orders. These days it's not often that you get such good personal service from a representative of a company. We would certainly recommend you and your company to anyone we know interested in blinds. Thanks again.
John & Colleen M. - Woodburn, OR
Just wanted to send a positive comment. I love my blinds! I now have all my windows covered within my house with your blinds. I installed them myself and was very pleased with the instructions. I will shop for my parents home now as well as tell others about your site. Thanks so much and have a nice day.
Barbara H. - Bogota, TN
We ordered miniblinds a while back. They arrived and we hung them. For some reason they wouldn't work, when lifting the up and down, well. We had noticed when the box arrived there seemed to be some damage to the top of it so wondered if they had been damaged in shipping. We called Hot Blinds and explained the situation. The gentleman I spoke to said he would get in touch with the manufacturer and get back to us. Within 10 minutes he returned our call. He said the manufacturer would immediately remake our blinds and have them in the mail in a couple days. The new blinds arrived on exactly the day we were told they would. They are now hanging in our window and look beautiful and work easily. Thank you so much for your courteous and prompt service. We will recommend you to everyone we know who are looking for window coverings.
Wayne & Jo C. - Castle Rock, WA
Thank you for all of your great service. The blinds arrived today and they look fabulous.
Lloyd W. - Mayville, WI
I just wanted to thank you - I love the blinds, I will be passing your name along. You guys were great.
Marianne P. - Plymouth, MI
Thank you - I have attached a picture of our fabulous blinds! I am happy to say that all three sets of blinds worked out perfect! Thank you again! We're very happy customers.
Marci S. - San Jose, CA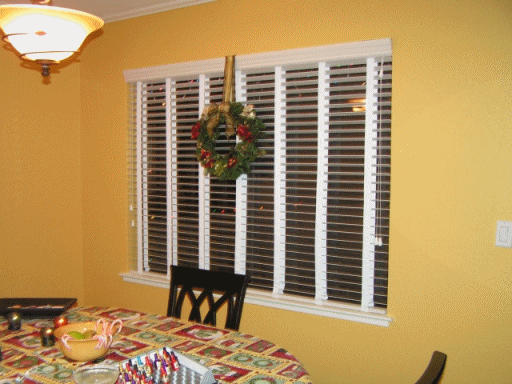 Just wanted to write to let you know that we are thrilled with our new blinds. We recently moved into our new home and my husband put up the blinds. They were made to our exact measurements. and were very easy to install. They are gorgeous! The pictures on your web-site cannot possibly do them justice. Your customer service was superb. You called to verify an order and helped when we needed to find the last box in delivery. We just wanted to say thank you very much. We will recommend your company to all our friends and co-workers.
Daniel C. - Fort Worth, TX
I wanted to say thank you for the great customer service throughout my order process. The blinds fit perfect. They look great. Thanks to all that were involved. We will buy from Hot Blinds again.
Mark M. - Citrus Heights, CA
Thank you for taking the time to make sure my order is right. Your excellent customer service is very much appreciated!
Ray M. - San Francisco, CA
Just wanted to let you know that I love my new blinds!
Deborah K. - Adel, IA
Thank you so very much. If we all cared as much as you guys do, the world would be a better place.
Carol P.
Just want to let you know our order came in and we are quite excited. The Hunter Douglas Blinds look terrific and the fit of the blinds themselves is superb. Thanks again for all your help and in the future when we need some more we certainly know where to shop!!! We're hoping to send our friends to you when it's their turn to purchase shades.
Gary and Sue Z - Plymouth, MI
The order looks great! I really appreciate your helpfulness and the quick turnaround...
Jan H. - Flagstaff, AZ
Hi, just wanted to say thanks. My order arrived before the estimated ship date! I'm impressed with your service every time. Thanks again.
Cynthia T. - Highland, IN
Just a "Thank You" for all of your help. My shades arrived by UPS today and they are now hanging in my windows. They look great and were a breeze to install. We are very pleased with them. Thanks again for the extra help that you gave me.
Mike L. - Lost Creek, WV
Thanks for the solar shades. They are just beautiful and as you described. Thanks for taking the time to answer all my questions re measurements and fabric deductions, etc. Your answers were accurate and paid off because the blinds fit great and your prices were the best too. Many many thanks.
Sharon W. - Tampa, FL
Thank you for your prompt production and delivery. We are very happy with our blinds. Everything was just as we had ordered and went up with ease. We are happy to refer you to all of our friends and family.
Sylvia M. - Moorhead, MN
Thank you so much for all your help. I got the reorder of blinds and they fit perfectly. Thank you so much for your patience with me (being it was my first time ordering blinds ever). The next house I buy I will definitely order blinds again from you.
Jessica R. - Reno, NV
I got my blinds and I really love them a lot! Thank you for your great service! I will tell all of my friends and family about your business!
Lisa D. - Hibbing, MN
Your speed of service is fantastic.
Evan P. - Boulder, CO
I just wanted to let you know that I received my blinds (sooner than expected) and I am delighted with the quality. Everything was perfect with the measurements, color, etc. Best of all, was the customer service!! You answered so many of my questions and gave me expert advice, which I truly appreciated. It was a pleasure doing business with you and I look forward to working with you on future orders. By the way, excellent website, and I highly recommend you to anyone looking for quality blinds and friendly, courteous customer service.
Sonia M. - Houston, TX
Thank you for a wonderful experience with HotBlinds. Your customer service is excellent! Every time I called you with a question about measuring, you were so patient and helpful. When I realized I made a mistake in measuring, I really appreciated your "Oops" Policy. You took the new measurements and sent out a new blind within days. I think the two things I was most impressed with was your quick response time and your great low prices. When I called, I always got a call back the same day or the next day. And your prices were considerably less than those I found in my hometown for the same exact blinds! I'm so glad I found HotBlinds and I am recommended it to all of my friends! Thanks a lot!!!!
Scott & Jennifer A. - Akron, OH
I ordered blinds for my entire house and received them a week and a half later. We put them up this weekend and everything is a perfect fit! The quality is excellent, the price was very reasonable, and your prompt service was unbeatable!! Thanks for such an easy transaction!
Ashley M. - Smyrna, TN
What a pleasure it was doing business with HotBlinds.com. I recently placed an order for 13 cellular shades. All shades arrived before the estimated ship date and installation went smoothly. I give HotBlinds.com my highest compliments regarding their professionalism, courtesy, pricing, and product selection. This is a company I will definitely recommend to my family and friends.
Michelle Z. - Bartlett, IL
Just wanted to thank you for all of your attention to our order, it is not often you find this kind of service. It is a pleasure doing business with you!!
Chris S. - Rolling Meadows, IL
The two blinds came in last week. They went up perfectly. I told my husband that if those were "Budget" than the inside blinds I ordered should be fabulous. We appreciate your help. Can't wait to see the others.
Susan W. - Bossier City, LA
Thanks so much again and again for everything. I've passed the site around to many people! Everything looks beautiful and I just wanted to say thank you again... So...THANK YOU!
Doreen D. - Weehawken, NJ
Received blinds yesterday. I installed them with no problem. Perfect color, perfect fit. Thanks for your help. Thanks again.
Anne C. - Winnfield, LA
I was looking for a very specific type of blackout shade for my home. I wanted a custom size made with high quality. When I came across the HotBlinds.com website, I found exactly what I was looking for. The website was very informative and clearly laid out and made researching fast and easy, but the best part was the customer service. Every phone call was quickly returned with a friendly company rep who took my order. When the shade arrived, because of the nature of my window frame, the shade was an inch too long, this was quickly and painlessly fixed with their "oop's" policy. I want to thank HotBlinds for their excellent products and customer service and recommend them to anybody looking for high quality products with a friendly attitude.
Edward A. - Van Nuyes, CA
Hotblinds, Thank You. I placed a small order for one small blind to cover an office door window. Your service was fast, the blind was perfect and the price was more than fair. You are an excellent example of what a great business is!
Gabe F. - Pocatello, ID
just installed the blinds I ordered and thought you would like to know that they are ...BEAUTIFUL thanks guys
Kelly K.
I bought the two blinds and am quite happy with how they lined up. BTW, I've been very impressed so far and would definitely recommend HotBlinds.com.
Otis D. - San Francisco, CA
We recieved our blind on Saturday, it fits and looks teriffic. Your quick response to my inquery was very nice. It has been a pleasure doing business, and we will be ordering blinds from you in the future, as well as telling all our friends about your business. Again, Thank You.
Robert M. - Benton City, WA
I highly recommend ordering from Hot Blinds. I had a difficult measuring situation and called several retailers. When I reached a HotBlinds customer service professional, I finally found someone who was thorough and made sure that I was measuring my windows correctly. We talked several times and he was always patient and helpful. He researched every aspect to make sure the fit was correct. My blinds arrived faster than I anticipated and they are perfect.
Susan
Just want to tell you how much I LOVE the roller shades I ordered and received. It's hard to find spring roller shades and I am so satisfied I just placed an order for my other rooms. Thanks!
C Taylor - Highland, IN
I received the repaired blind yesterday. Thanks for all your help. I give your web site to everyone I talk to about window binds/shades etc. You have been fantastic.
Barbara
Thank you so much for all your assistance, and the promptness also. We both appreciate doing business w/such a professional.
George and Linda S.